Hey Folks, Jeff Lenney here and thanks for checking out my ZCode System Review.  Now, for those who don't know me,
Now, for those who don't know me, I usually write, teach, and do reviews in more "Make money online" types of methods and offers, but when somebody on my email list recently asked me about The ZCode System, I was intrigued!  It IS an online system, and it does teach you how to profit online, so I'm getting it, going through it, and will give you the full rundown!
Anyways, let me get straight to the point.
What IS The ZCode System all about?
I got it, so I can show you!
Important: If you find my review useful, and I really hope you do – would you please close the sales page if it's currently open and join ZCode System  via my link here?  I get a small referral fee if you do, and it helps me pay the bills!
Anyways, I don't know if you're like me or not when it comes to sports, but I TRULY know nothing about sports.  Sure, I'll always root for the hometeam (Go Angels!) but I really don't care one way or another.
If Joe Montana hits a grand slam past Wayne Gretsky, good for him – I don't really care… LOL
Anyways, dumb jokes aside…the fact that this system promises you can make money WITHOUT even knowing a thing about sports or sports betting intrigued me.  This tells me that if I can do it, then anybody can.
I'll be honest, this scars me.  This is my FIRST sports betting system review.  I'm a bit nervous, but a bit excited at the same time, because I TRULY have no idea how this will turn out.
Anyway, here's how ZCode System Works!
Step 1:

Zcode Newbie Fast Start Welcome A to Z Fast start Webinar
This is a short, straight to the point interactive webinar which will show you how to get around zcode club, where to find systems, what to follow in order to succeed.
It also includes:
Money management tips, 7/30 plan, newbie mistakes and pitfalls and how you can avoid them. And 3 most important things you need to know from John.
The Number One mistake new sports investors are doing and how to avoid it?
This is a Must watch for everyone who is starting out with sports investing OR the ZCode System.
Step 2:

Open your Bookie Account
Once you watch the new members webinar, the next thing you need to do is join at least one Bookmaker. As you'll learn in the Z Code System, The Bookmaker or Bookie for short, is an organization that accepts bets and pays winnings depending upon results of the sporting event.  As they teach in the system, you'll want to make sure your bookie provides best odds, supports NHL, NBA, NFL and MLB and allows you to buy points.
The ZCode System Provides a FULL list of Bookies and gives great information on each one, so you don't have to put too much thought into that.  🙂
If you are totally new to online betting, like me, you can first bet "on paper" with the Robots Recommended bets WITHOUT having to place real bets with real money.  OR – you can also just make small bets, like $10.00 or so.  This way you will get comfortable with the system and learn how to place bets very fast!
Step 3:

Learn How to Use the Z Code System Sports Picks
PLEASE – take your time to go through their User Guide, THEN watch the step-by-step VIDEO tutorials.  They literally take you by the hand and walk you through the ENTIRE process of understanding sports investing, and how to properly place your winning bets.
If you're STILL stuck after this, they've got a great FAQ (Frequently asked Questions) section, and their support desk has been amazing so far with the few questions i've had while getting set up.
After this, you'll MOSTLY be good to go with the basics!
Step 4:

FREE BONUSES! Winning Systems & Arb Generator
As new members, the Z Code Systems team have prepared several great bonuses for you such as Z Code (old name XCode) Winning Systems (Revenge System, LF System) & The Arb Generator.
FYI: ArbGenerator is a special web script that can work in any web browser on any platform: PC, MAC, Linux, Mobile phones, Android, iPhone & iPad as long as you have Internet connection. Simply use the arb gen link to start it any time. ArbGenerator automatically adapts to the small screens of your mobile device as well!
Step 5: WHAT Systems Do you Follow?
THIS is the 'meat and potatoes' of the course!
You've got the membership, you've got the sports betting experts, you've got the 'done for you' picks – BUT tou might be wondering where you can find best systems and their links?
If you Take a look at the Zcode menu on top. It has a Hot Trends Tab. That is a place where you will find all up-to-date links to the active winning systems.
The list is manually updated by admins to make sure only best of the best get there!
Here's how you take advantage:
Don't get confused and avoid overbetting!
You need to follow only 2-3 systems, not ALL of them at the same time, especially if your bankroll is not so big YET! It will be soon!
But for now lets concentrate on 2-3 systems.
Take your time to go through them, read their rules in post 1 of each topic and decide which systems you are fully understanding and comfortable to follow!
Check out this Video of the ZCode Members Area
PROOF it Works
Here are just 4 out of 30 of the Experts Picks you're able to utilize with this system, pretty freaking cool!
This is in the actual member's area – and you can check the stats yourself too to verify these wins!
You can also follow Expert Systems, those are created manually by their experts. These guys make a living out of sports investing, and tell you EXACTLY what bets to place, when, and how.
Some of them have 30-40 years of experience or even more and these guys might've even started betting before you were born. So chances are they know something about it and seen it all.
 Z-code System has a 2014 MLB YTD (documented) win success ratio of 86.5%, they're the real deal with proof to back up their claims.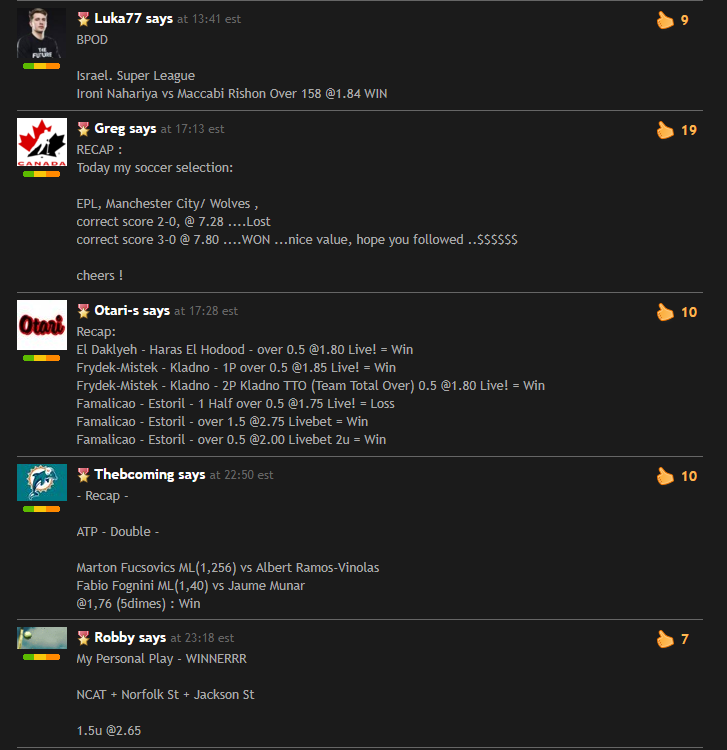 And More…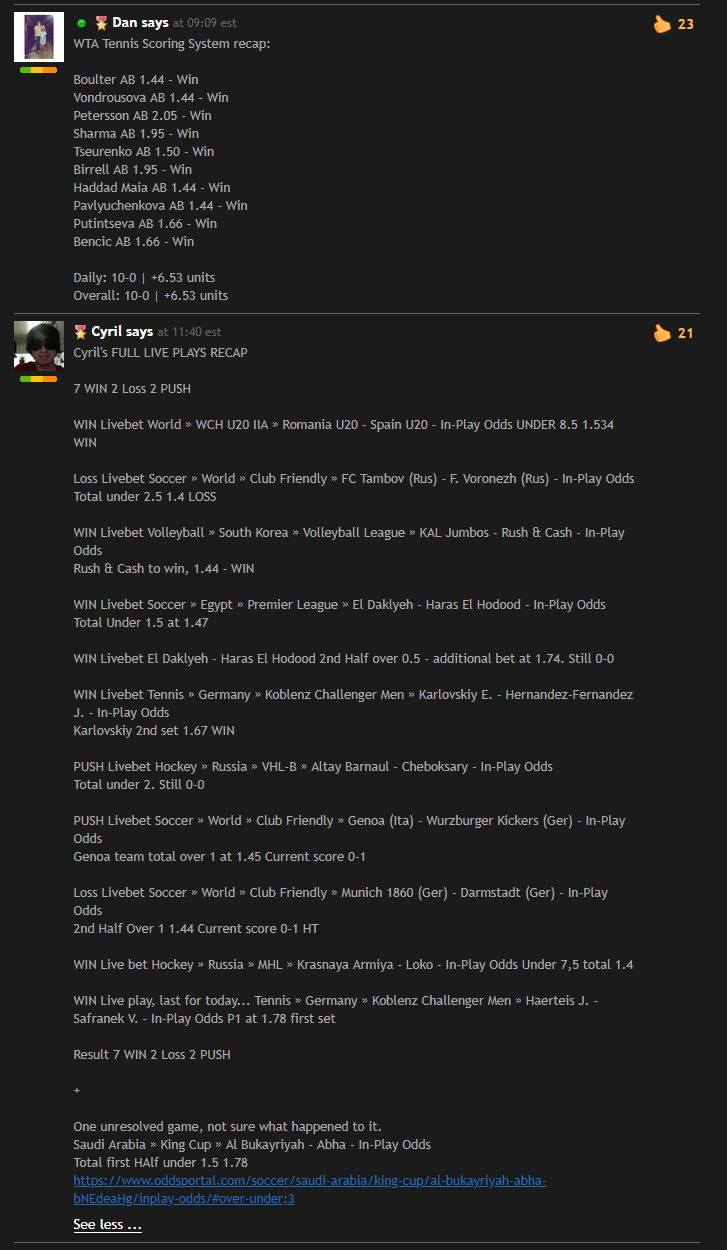 AND even More..

How about this 1,239,115 (Euros) of PROFIT?!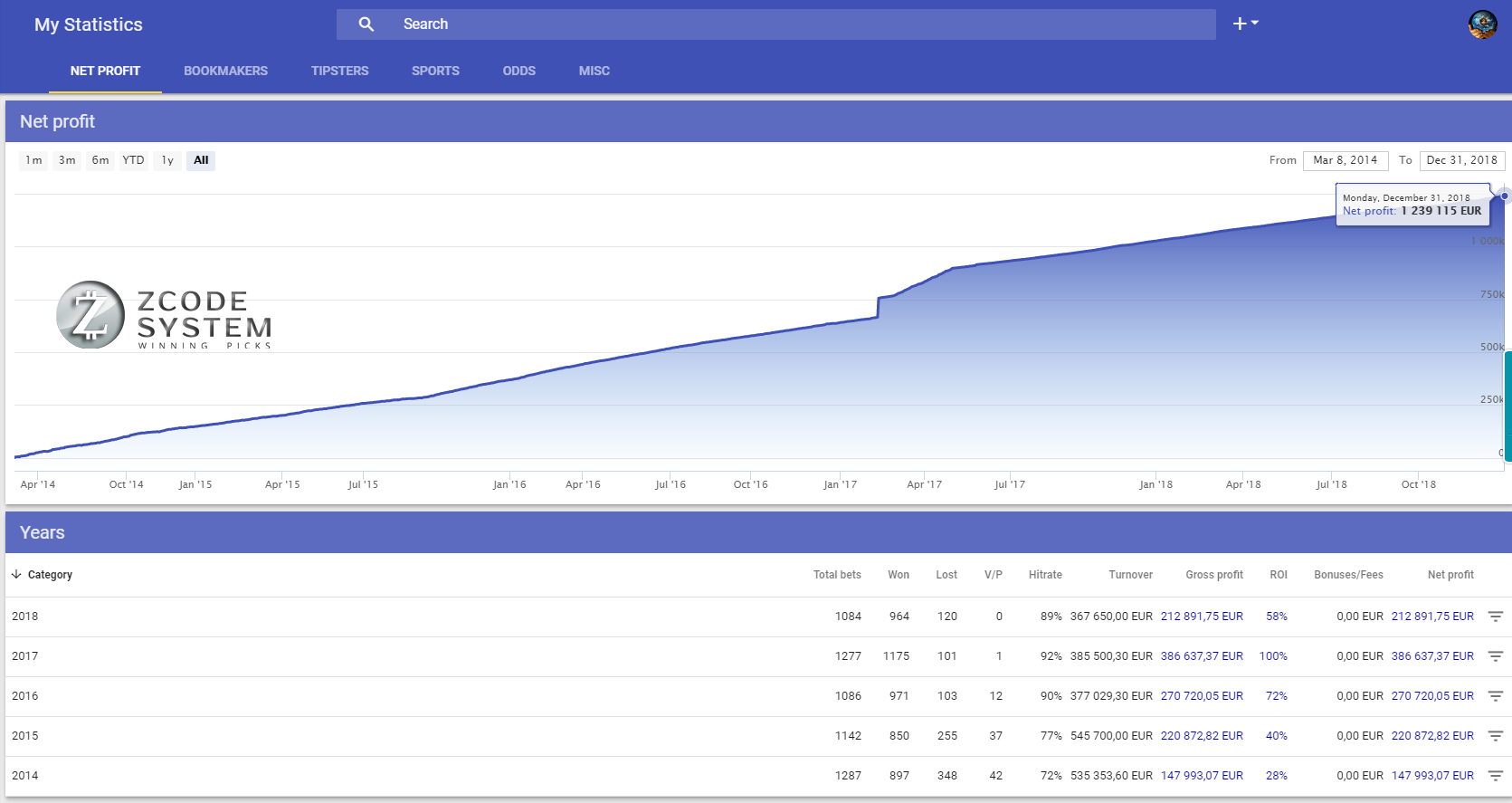 If you want more, Try out their Live Game Simulator to see the results for yourself!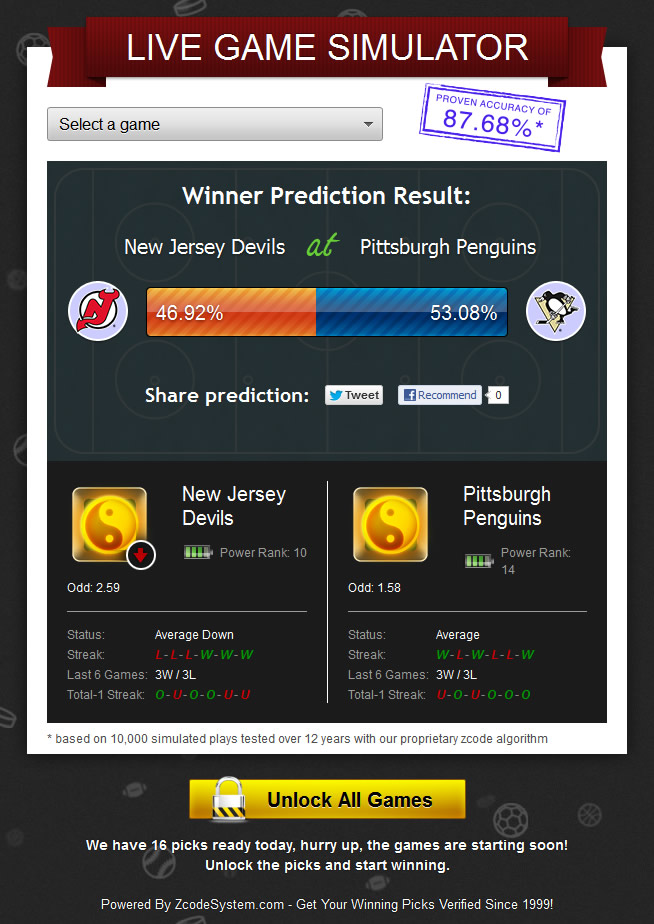 My Zcode System Review?
Alright, I know the above info is A LOT to take in – but I wanted to THOUROGHLY explain what the course is about, and what youll be getting.
Just to be clear, ZCode system is NOT some magical betting robot that places your trades for you.  It's a BUNCH of different systems with a TON of methods, picks, and discussion forums with even more picks.
Don't take my word for it, see what some of the betting EXPERTS at covers.com think about it.
"I am very familiar with z-code…it is definitely not a scam of any kind. Anyone telling you otherwise is a moron"
Or how about this one:
"Z-code has a 2014 MLB YTD (documented) win success ratio of 86.5%"

These were NOT taken anywhere from the ZCode sales page, These are all by REAL members of ZCode system discussing it on covers.com
So, what do I think of it?
So far I'm VERY impressed, and I suggest you pick it up for yourself! They have a 60-day refund policy, so the risk is all theirs, and none for you! 🙂

There is a LOT to take in and to be honest, it CAN be a bit overwhelming at times.  My advice to you is to take your time, and don't feel rushed to make your first bet if you're not ready yet.  It's a great system and I highly recommend it.
Important: If you find my review useful, and I really hope you do – would you please close the sales page if it's currently open and join ZCode System via my link here?  I get a small referral fee if you do, and it helps me pay the bills!
Thanks!
Jeff Lenney